New Paddlers and social paddler sessions have now started 7.30AM at the marina Sundays 
PMMOCC welcomes new paddlers.
Contact Phil for details: 0429 193 952

We will supply instruction, PFD's and basic equipment. If you are interested in learning this unique and exciting sport, please see the 'contact us' page.
An affinity with the sea and aquatic sports are desirable characteristics for potential new members!
A sound level of fitness is also necessary.
As outrigger canoeing is an ocean sport, we are required to meet a range of safety standards. New and existing paddlers need to develop certain skills including basic swimming competency and treading water. Instruction on tipping (Huli) procedure and re-righting forms part of the fun training exercises.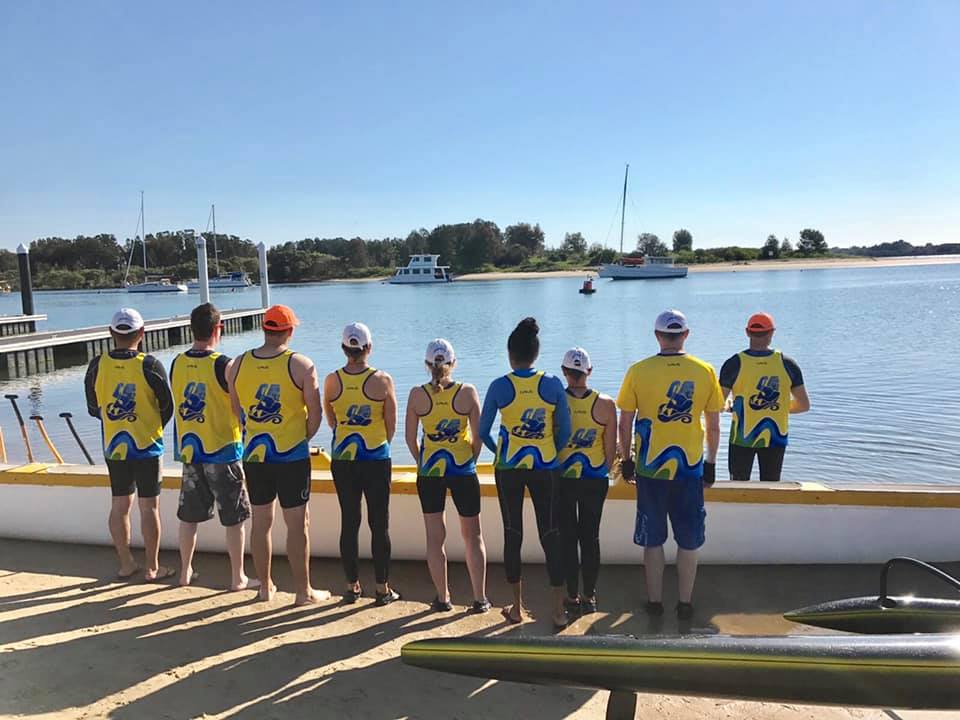 Racing members will train both in the river and 'outside' whenever conditions permit.
Race training focuses on skill development, fitness and endurance along with frequent time trials to aid in crew selection for races.
These sessions will be concentrated and intense workouts; requiring commitment, drive and enthusiasm from all paddlers.
Training can be in any of the clubs OC6s, V3, OC2 and OC1.
All paddlers are expected to gain competency in an OC1 as they will be used frequently as a measure of skill and fitness for crew selection. The club owns an OC1 that may be borrowed by members in these sessions.
In an OC6 there are 6 paddlers all joined at the hip and depending on each other. Each paddler from seat number 1-5 paddles on an alternate side with seat 6 steering the canoe by both poking and paddling.
Seat 1 (Stroke)
sets the rhythm and rate for the canoe. The rate will vary depending on conditions, but is usually somewhere around 60 strokes/minute. They should be able to feel the canoe and will adjust the stoke to suit prevailing conditions and the other paddlers in the canoe to deliver optimum performance. Being number 1 means leading from the front. It is not a power seat but it is psychologically challenging (it can be lonely at number 1) and requires self-motivation and the ability to remain focused. At times Seat 1 will be required to assist in turning the canoe, either using a J Stroke or a Uni. They also inform the steerer of possible obstacles ahead and provided a Clear or Block call when a change of direction is being considered (particularly in congested race conditions).
Seat 2
Seat 2 mirrors Seat 1. They depend on the body and arm movements of Seat 1 to determine the rhythm and rate as they do not have a blade in front of them to follow. Number 2 is the main source of support and encouragement for Seat 1. The 1/2 combination is the foundation on which the canoes performance is built. At times Seat 2 will be required to assist in turning the canoe using a J Stroke/Kahe. They may also call the Hut (change sides).
Seat 3
Seat 3 is a power seat, part of the engine room of the canoe. In most cases this is a seat for a stronger/heavier paddler. From here they have maximum access to the water and can consistently deliver pulling power with their weight acting as a stabiliser. The focus of Seat 3 is to follow Seat 1 and deliver strong stokes to pull the canoe through the water. They may also call the Hut (change sides).
Seat 4
Seat 4 is also a power seat. In addition Seat 4 is located in the best position for bailing and keeping the canoe dry (as much possible). The focus of Seat 4 is to follow Seat 2 and deliver strong stokes to pull the canoe through the water.
Seat Five
Seat 5 requires all round skills, including power and awareness. They have a good view of the canoe and can clearly see the ama, quickly reacting to prevent a capsize (huli). They follow Seat 3, support the steerer, and bail when necessary.
Seat 6 (Steerer)
The steerer is in command of the canoe. For the safety of the canoe and its contents all paddlers must respond promptly to the commands of the steerer.
Steerers motivate the crew, providing direction and feedback. Their ability to read the water and identify the best line to navigate can be the difference between a good team and a great team. Steering the canoe is performed by poking the paddle blade down the side of the canoe or paddling with a directional draw stroke. It requires an intuitive feel for the canoe and a high level of skill (it is not easy).